What is the Inner Evolution Study Center?
An innovative formative model dedicated to the science of the internal.
For 8 years our business and human structure have been dedicated to training in:
Application of the Method
Support and accompaniment of processes of inner evolution through OUR METHOD.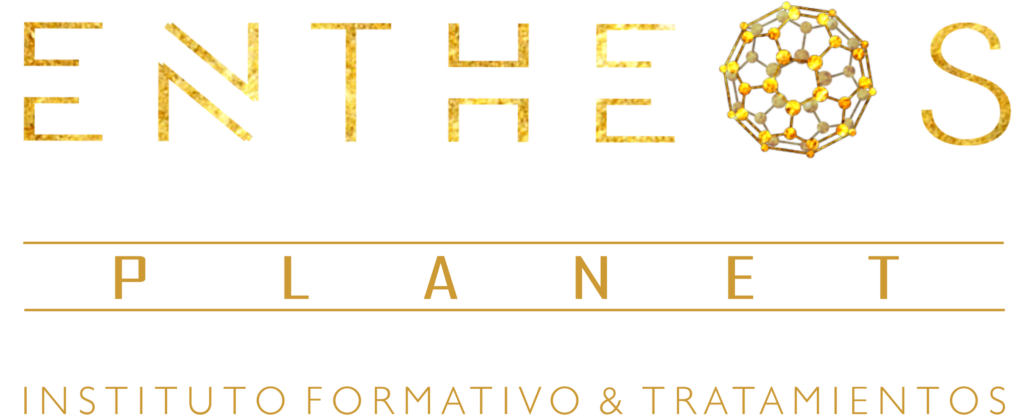 Facilitators
Integrators
Coordinators
Therapists
Doctors
Psychologists
The Essence of the Method
Personal development through the INTEGRATION OF SCHOOLS in philosophy, psychology, and mysticism.

Mentors
Integrators
Authors
Professors
Researchers
Philosophers
Integration of the Method
Leadership and direction of teams based on a NEW EVOLUTIVE THEORY OF LANGUAGE.

Leaders
Directors
Entrepreneurs
Supervisors
THE TIME HAS COME TO TAKE A TURN IN THE FOCUS OF OUR TRAINING.
About 3 years ago Alverto, the founder of the organization and of the school, said that we would make this leap, when he shared with us the phrase: "Medicine is not medicine, medicine is love".
Up to now, the focus has been on "learning to give": medicines, songs, integration, dynamics, words….
From now on, the focus will be directed towards the FIELD, that is to create the conditions of the earth so that the seeds are sown and can germinate, grow and flourish. And this requires a great DELIVERANCE. But we associate giving with GIVING, when in reality it means opening ourselves to receive.
The main challenge faced by the vast majority of psychologists, therapists, facilitators, shamans, and virtually anyone who is dedicated to working with others, either in private practice or in retreats is that they fail to create a BOND OF LOVE AND TRUST with the other (client, patient, participant, or whatever we call it) But even if that link is created, the big obstacle arises during the process, is that the transference takes place, that the other gets acceptance, understanding and love. This difficulty has always led to the use of techniques, substances and tools, or anything external to make up for the impact produced by a pure, available and surrendered presence.
Therefore, they can only go as far as the technique or tool allows them to go, facing the reality of not being able to go beyond what that external instrument allows, which is a more or less superficial part of people. This beyond the other is not reached precisely because something is done, it can only be realized when in addition to having created this link there has been an emanation of the pure essence of being; and this phenomenon occurs when there is an openness to let the other enter, because in this act, and without realizing it, this connection and consequent sharing of what we are is realized.
That is to say:
Our training will no longer be focused on the medicines or dynamics that we use, nor on how we use it, but on the creation of a propitious FIELD so that this phenomenon can occur naturally, within which everything that is appropriate can be used, such as: dynamics, substances, dance, songs, words or diverse approaches.
It is a training in the CREATION, SUSTAINING AND INTEGRATION of a field of love and healing, a field of transformation in which no one is coerced to do or achieve anything, but everyone can open themselves to the consideration of this natural and powerful phenomenon occurring.
The focus will be on the possibility for each student to awaken a PRESENCE in themselves that allows for the natural creation of a loving field.
In order for this presence to be activated, the student will need to free him/herself from ties, interferences, shame, insecurity, distrust, that is to say, from his/her own conditioning that limits him/her and then manifests itself as a negative projection through unconscious language, verbal and non-verbal communication, gestures, etc.
Everything that may be hindering the creation of this FIELD, and the spontaneous phenomenon of Surrender, can be healed to FACILITATE the work that is done in our retreats.
Without that spiritual presence and the care of a myriad of details at the human and affective level, it is not possible to create a bond of love and trust between facilitators (therapists and integrators) and with the participants, but with that presence and that bond, it does not matter what is done or proposed, because then the field itself is what will inspire and move the most authentic and deepest part of each person towards the DELIVERANCE.
The new approach of our training is oriented to be simple and deep, sensitive and centered, humble and open in order to be awake and balanced, occupying a place of impact on others but without seeking any protagonism.
The backbone of this essential learning is developed through verbal and non-verbal communication, spiritual presence and love in everything we do and for each person who comes to us.
The new title of the training is: DELIVERANCE.
Learn to create fields of healing and transformation from your own Self, where what the mind cannot control or prevent can occur naturally.
The central theme is: THE FIELD.
Create it 2. Hold it 3. Integrate it.
INTENSIVE TRAINING PROGRAM for integration into the Beyond Inner movement.
Click here to access the Events Calendar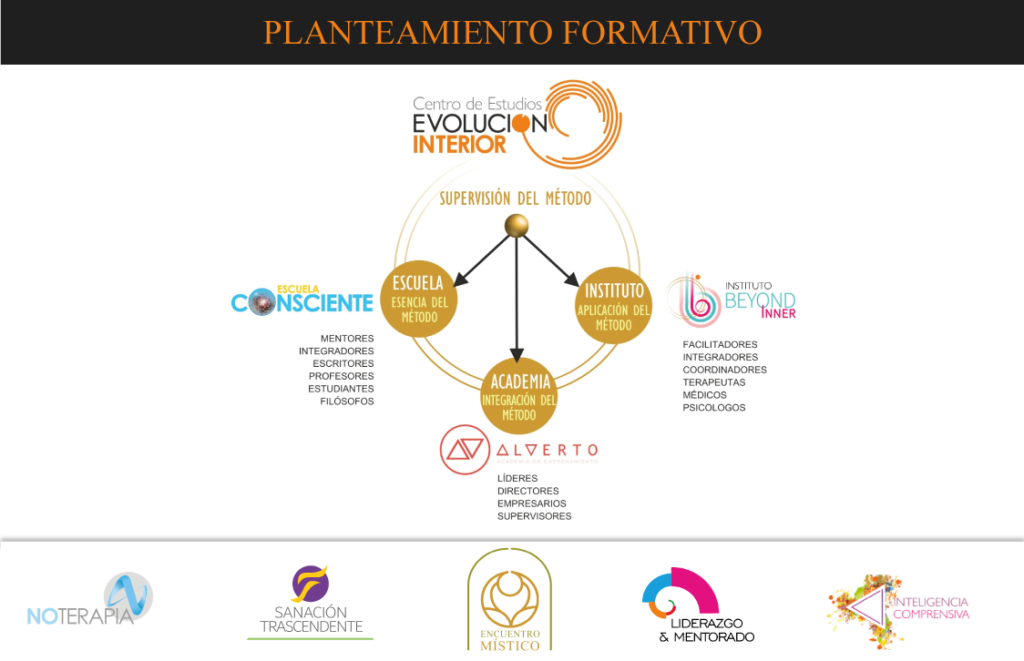 From the Movement towards Potentiality is the result of an evolutionary process of a group of companies and projects born in 2012. Currently it has become a movement because we have gone beyond the business organization and corporate projects to open ourselves to a new approach based on the development of the potential of the human being. Both on a personal, professional and work level.
The different psychotherapeutic, philosophical and mystical approaches, gathered in the same method of INNER EVOLUTION, include the psycho-emotional, corporal and spiritual approach for different levels of consciousness, according to the moment and the circumstances of each person.
This Study Center was born from the union of a group of health professionals, researchers and mentors dedicated to personal growth, who coincided in the concern to study in depth the possibility of making an evolutionary leap at a human level and from individual responsibility, knowing that all personal evolution can be expanded to family, work and social levels.
The sincere and objective investigation of the internal phenomena of the human being belongs to the science of the internal, which has not been recognized as such because it is based on an empirical approach. Philosophy, psychology and theology are currents of thought that have tried to channel this disturbing human search for meaning, without having completely succeeded, at least for thousands of people that we serve and that have confirmed the need for a proposal that reaches deeply to the root of the human search.
Through our transgressive method and the innovative ideas we handle, we are going beyond what we have been able to reach so far in the exploration of the human being's inner self.
What does the Inner Evolution Study Center offer?
It offers training with the possibility of employment, for people who want to work therapeutically and/or spiritually with other people. It is a training in support and accompaniment in the management of inner evolution processes.
The training is focused on different branches that include, through the learning of different methods and techniques:
The Movement towards Potentiality is the result of an evolutionary process of a set of companies and projects born in 2012. Currently it has become a movement because we have gone beyond the business organization and corporate projects to open ourselves to a new approach based on the development of the potential of the human being. Both on a personal, professional and work level.
The different psychotherapeutic, philosophical and mystical approaches, gathered in the same method of INNER EVOLUTION, include the psycho-emotional, corporal and spiritual approach for different levels of consciousness, according to the moment and the circumstances of each person.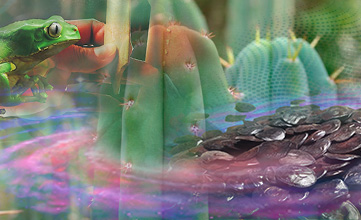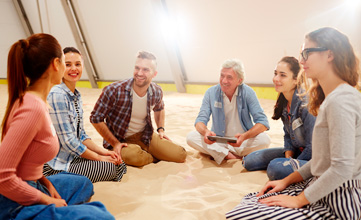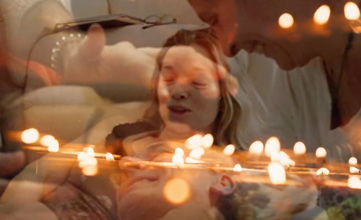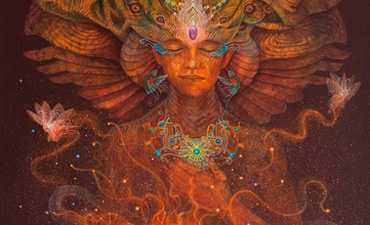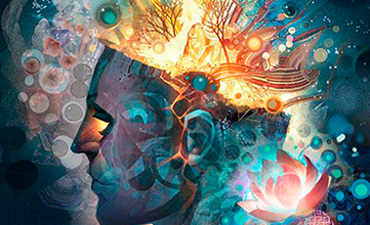 The Method of Inner Evolution
The Method of Inner Evolution®️ is also something that is external to the human being, therefore it doesn't work either in reference to the possibility of transforming you. In this sense, what is original about this approach is that it is carried out from the inside, not from the outside. Until now all of the therapeutic or spiritual approaches were done from the outside, offering doctrines or techniques, promising objectives or results, proposing a practice or teaching, but this method affirms that EVERY HUMAN BEING HAS THE RESPONSIBILITY AND OPPORTUNITY TO EVOLVE FROM THE INSIDE, STARTING FROM THE BASE THAT NOTHING NEEDS TO BE DONE WITH WHAT IS COMPREHENDED, OBSERVING THE MOVEMENT THAT IS PRODUCED WHEN ONE IS CONSCIOUS OF THE EXTERNAL.
This process supposes a whole chain of recognitions and comprehensions that will lead you to recovering your spiritual memory and realizing that it has been the creator of your life, be it for reasons or decisions that are conscious or unconscious, or for actions and influences that are direct or indirect.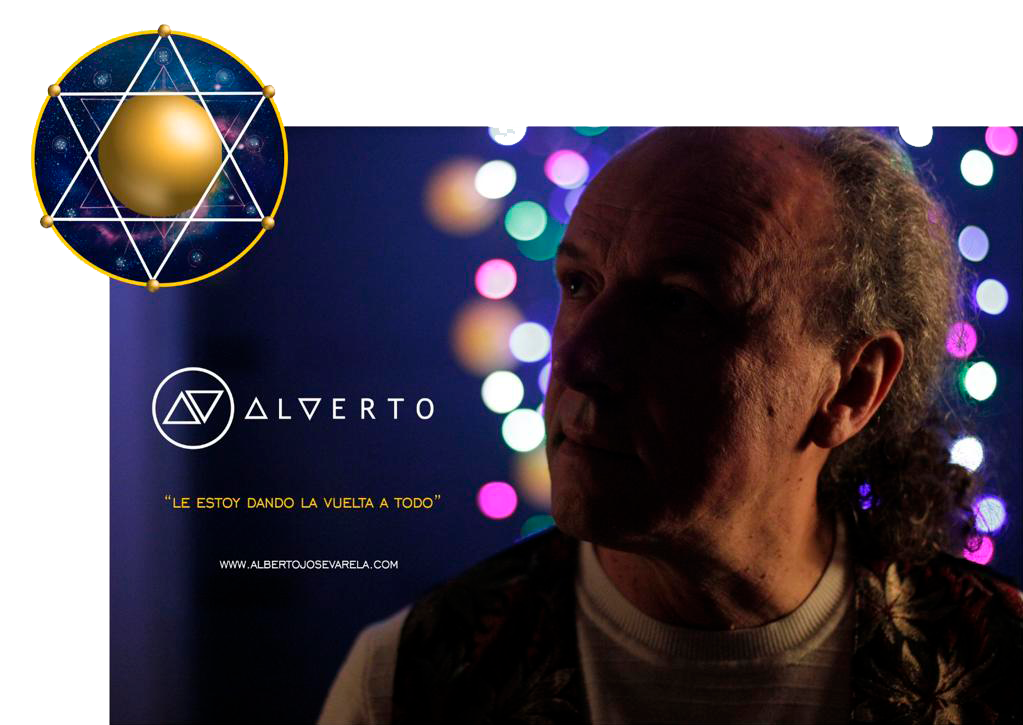 When a person opens himself to BE AWARE of the external and of others as the context he has created, he begins his process of inner understanding by considering himself the author of his own life, THE CAUSE OF EVERYTHING.
The approach we propose is an introspection, a deep reflection of what is seen outside to bring it inside. Outside is the projection of the film that we project from within. This reflection and internalization can only be done by each individual by his own self-determination of wanting to go inside to look inside himself as a cause of himself.
This approach requires the care of many details in the forms and in the background of what is transmitted, because everything that surrounds a student in this school is considered as work material for his process of inner evolution. Each student comes from his own life environment, accustomed, accommodated and clinging to the known, with many arguments to stay the same or just improve some insignificant things, and when accessing the environment offered by the school, there is a vital decontextualization so that he can access the new, and from that wonderful discovery can continue with his life, his projects, but in a different way.
The arrival of so many students added to the fact that we are more than 100 people who support this business organization formed by INNER MASTERY INTERNATIONAL, NETWORK OF HOLISTIC EPICENTERS AND THE CENTER FOR INNER EVOLUTION STUDIES, challenged us to reorganize all our training activities, specialize and segment them according to the interests of each student and the level of challenge of each person who is fulfilling functions of high commitment.
From this training plan we are training all the people who collaborate in the organization and integrating more students as interns of the movement, which offers them countless possibilities for internal and external development.
We invite you to observe and read this approach so that you can find your place in the different training branches.

The path of inner mastery is a method that has been greatly studied, in which Alverto has researched and integrated a wide variety of tools, techniques, focuses, and approaches that unify the psychotherapeutic, philosophical, and spiritual schools in order to develop a technology so complex that it has turned into engineering for human transformation.
Based on 11 unique, astounding, and confronting PREMISES that make up the MANIFESTO OF CONSCIOUSNESS, which represents the voice of love speaking to the human being. It enters us into a space that goes beyond external guides and dependencies in order to salvage wisdom and inner power, where the keys can be found to power and authority over oneself and to facing oneself, life, and its circumstances.
Navigating the river of evolution, flowing towards the sea of consciousness, releasing the past in order to open the heart to trust. EVERY HUMAN BEING CONTAINS A MYSTERY TO BE DISCOVERED… turning into a spiritual vagabond.
Several years ago I proposed to all my people that we give a twist in the focus of our retreats, that we stop offering medicines, therapies, expanded states of consciousness or healing, and simply launch a signal that we exist, showing us as we are and why we do what we do.
After many years of being in retreats and observing what happens in them, I understood that everything that is proposed is interpreted by the mind of those who are looking for it and want to get it, therefore it is inevitable that there is an expectation regarding the results that are intended, both those who offer it and those who need it.
First of all, all promises had to be eliminated, but this is almost impossible to implement because the language is already totally contaminated and programmed to offer targets and thus ensure the affirmative response of those who are looking for what is promised. It is an unhealthy unconscious alliance to anything that refers to healing.
We have taken over 3 years to be able to see and prove the tremendous importance of the FIELD when you meet a group of people who need something. People come and are with us for much deeper and more essential reasons than taking a medicine or seeing something in their life, and those reasons that attract others to come are related to love, trust and freedom.
We have implemented retreats where I have focused on this human core, gathering during each month more than 70 to 100 people in the Mystical Encounter in Madrid, which then spread to mystical retreats in Italy, Switzerland, Belgium and Mexico. What we have seen and confirmed is conclusive, that when everything that is done comes from love, a field of harmony, naturalness and openness is created.
On a global level, our facilitators are also verifying this reality in their own way. As if they are realizing the power of DEDICATION, DELIVERY AND LOOKING at others. And it seems that this is the most important thing we have learned in so many years, and it has happened naturally, there were no pre-established programs but an authentic connection between us, where we have allowed ourselves to accept and love each other as we are, supporting each other in all aspects of private and professional life.
Now in the new approach we are going to develop more explicitly all this that we have learned implicitly, because this is what people want and are looking for: to learn to know how to be with others without effort or conflict, to support them in the process of evolution in which they are and that unpredictable and shocking things can happen to their path.